Successes with Taking Bloodroot Orally…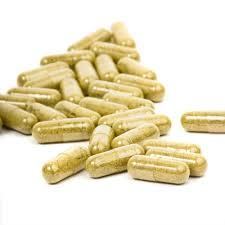 Bloodroot can be taken in a capsule, usually with other herbs, and some people opt to take the Black Salve. The dose of salve is one small pea-size piece per day, either in a capsule or with honey, bread, or similar. Not only cancers are treated, but warts and other skin conditions. Here are some users' stories.
Carol's Story
In August of 2003, my doctor told me that I had a large black tumor in my lung and it was inoperable cancer. They did not suggest chemo because it was so bad. It had spread to my stomach area. The Doctors told me I had 4 to 6 months to live. A friend in my church told me about the black salve and said I should use it. He went on the computer and found the information to get it. I wrote and ask how to get it, and in a few days, I received a jar with the instructions on taking it. At the end of the first 20 days, I went back to the doctor for an MRI, and to his shock and mine; the whole black mass was completely gone. He said I was cancer-free. I continued to take it for the rest of the recommended time. I am happy today to still be alive and healthy. Carol O'Neal, Wyoming
Tracy's Story
In August of 2002, I was diagnosed with Squamous Cell Carcinoma. I had surgery to remove it…however the surgery did not remove all of it, so I had to start treating it with Efudex, (a cream that destroys skin cells)…after the first treatment I learned that it had not worked so I used the Efudex again…about this time I learned about Black Salve…I read the testimonials and heard the success stories…but I am just like everyone else when it comes to this type of thing…I found it hard to believe that curing my cancer could be this easy.
After about 4 weeks, I decided why not…what did I have to lose? I took it internally for the full 20-day cycle, took the 5-day break and took it for another 20-day cycle. Amazingly, when I went to my doctor for a colonoscopy and biopsy – the colonoscopy showed that there wasn't any cancer left to biopsy!!!

I also had a melanoma on my arm that I have treated externally…this too is now gone. Although I was unable to get people involved in the treatment of my Squamous cell cancer (due to its location)- I did let several people watch the progress of the removal of the melanoma. Even the skeptics couldn't deny what they saw with their own eyes. I recommend it to anyone who is open enough to believe that a cure for cancer does exist…we just need to know where to look. My heart and prayers are with each of you as you face your battle…God Bless & keep the faith. Tracy Smith, Texas
Ellen's Story
For 13 years I put myself at risk of skin cancer by trying to get a tan. Then I had a red spot on my arm that didn't respond to Comfrey salve or flaxseed oil. I decided to try black salve. When I put it on, it stung a bit and then the area turned white. (When I tried it on a different spot, I didn't feel anything at all.) I followed the directions exactly and waited 2 weeks. I also took it internally. The white spot didn't go away so I applied it again. This time part of it came out but there was still some left. I applied it for the third time and the rest came out. Now, the hole has closed up, the spot on my arm is just a little bit red and I didn't feel anything when I put the black salve on it. Ellen F., Denver, NY