Gabi writes:
I ordered Bloodroot capsules with Cat's Claw from Zenith Herbal for me and my daughter.
After my breast cancer development in 2009 with radiation therapy, I refused to take the drugs prescribed by the hospital. In 2012, breast cancer was again diagnosed. I flew to the US and consulted an alternative doctor who suggested to me the use of bloodroot and enzymes. A resounding success!
Since then, I have been taking enzymes and Bloodroot capsules regularly and feel great. Since last summer, I have also treated suspicious moles with Bloodroot Salve and they have completely disappeared.
My daughter was diagnosed with cervical cancer in the fourth stage in spring 2016. She was strongly recommended for surgery and medication, but she refused. In July, she visited our alternative doctor in Florida and recommended the use of Bloodroot capsules in high doses. This time he again recommended Zenith Herbal capsules.
After taking them for about four months, a follow-up with my daughter in November only gave stage 2. She takes one capsule daily now.
We will order again !!!
---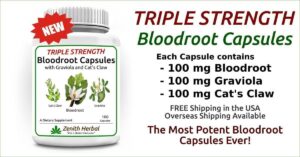 ---