More Skin C***** Bites the Dust
Gus Writes…
The bloodroot capsules have worked very well for me. After trying Zenith's Bloodroot Salve and having great success, I thought I would try the capsules. I had a suspected skin c***** under one of my eyebrows and wanted to see if I could treat it from the inside before doing any external salving.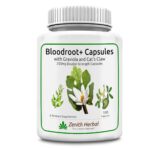 I followed Zenith's guidelines and ramped up from one per day to six per day over a few weeks. I didn't have any negative reactions, but got some very positive results.
After a few weeks on the capsules, I had two other areas light up – one under each sideburn –  and I made a note of their location for future salving.
My eyebrow spot reduced by about one half but didn't completely disappear. The two spots under my sideburns erupted and by the end of two bottles, they totally disappeared without any surface salving! There wasn't an external eschar (scab), the eruptions just seemed to dissolve over the next few weeks and healed very easily. 
I am presently doing a second round of two bottles to see if I can reduce the eyebrow spot size any more before I salve it.
This is a wonderful company with quick shipping and quality products. I highly recommend it!
Gus G.
[contentblock id=2 img=gcb.png]