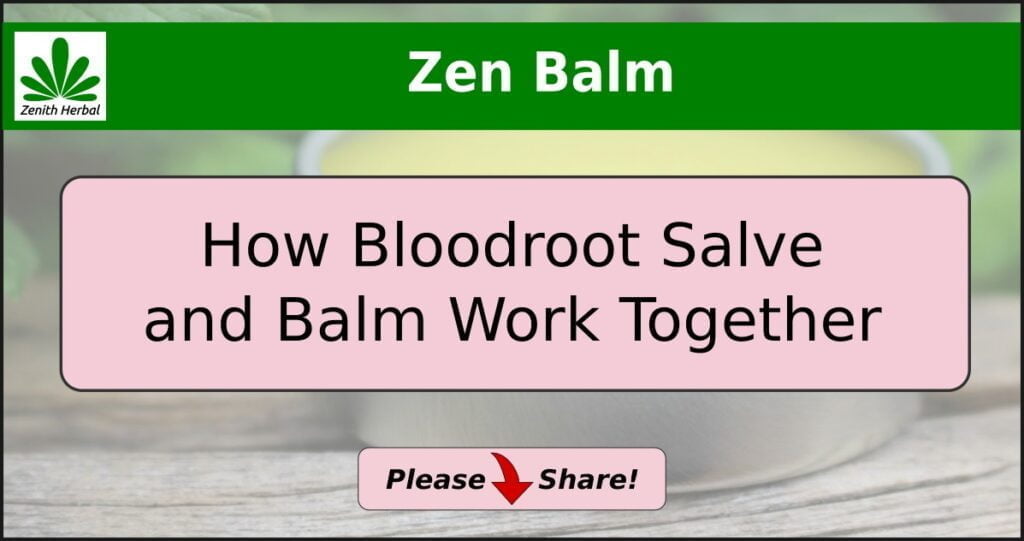 Zen Balm: Made with Love
I decided to make a special organic handmade balm specifically for us salvers. I chose ingredients that would address the problems that we experience. It was designed to be used both during and after a salve treatment to help with both pain, faster healing, and reduced scarring. The result is what I decided to call "Zen Healing Balm".
Zen Healing Balm has ingredients that are both antibiotic and antiviral to help address people's concerns about infection. 
It contains natural moisturizing ingredients and essential oils that soothe, protect, and speed the regrowth of new skin. It also helps reduce scar tissue. 
Cayenne is a key ingredient because it reduces the pain from the inflammation and because it helps reduce any bleeding that might occur. 
Ruth

The Ingredients
Zen Balm contains cayenne, goldenseal, vitamin E, and frankincense and myrrh essential oils, coconut oil, shea butter, and beeswax. 
What Customers Have Said
Willow loves all the products
"The effect your products are having beats anything else I have used over the years. The Gentle Salve is FAR less painful and far more tolerable than other black salves I have used. And the capsules really aid in the process.
The Zen Balm is perfect for applying, even over the dried black salve, to moisten the area, and it actually even helps to improve the process of the black salve. I cannot praise the quality of your products enough. They are all well described with excellent instructions. The packaging is of the utmost quality and cleanliness is unsurpassed. Not to mention again the absolute effectiveness. I finally feel that I am healing." Willow
Janice threw the others away
"This is the best healing salve I've used. I threw away all my others, about a dozen of them. This helps with pain, sleep, and it soothes and heals." Janice
Cathy likes the moisturizing effect
"So very glad I ordered your healing balm. It really works well at healing. I love how it moisturizes and speeds up healing time for me." Cathy
Terry used it for soothing
"I have not tried the bloodroot salve yet; still trying to get my courage up for that! In the mean time I did try the Zen Healing Balm on another issue and I cannot say enough good things about it. It is very soothing and makes the area more calm and painless. Thanks for a great product!" Terry
Lisa says it speeds up healing
"This product does exactly what is stated that it will do. I have used the product to speed up the healing process of areas where I have salved. It is not only soothing, but it has also reduced the pain. I think this is a must product for anyone who is salving!" Lisa
David likes the customer service
"Quick shipping, good packaging and excellent customer service! I had a question about the order and my email was answered quickly.
Just received the balm a couple of days ago so haven't used it for long, but it is soothing and I think it'll be very helpful in the healing process. Thanks!" David
Dina and her post-op dog
"Superior product. I used this on my post-op dog who had a tumor removed from his paw. It soothed and sped up the healing process. His pain and soreness vanished right after application. Even the vet was in awe! Don't let the tiny size of the container disturb you… just a little goes a very long way. Thus is now a staple in our home. I'm a retired nurse who is very hard to please. You MUST use and keep this in your first aid cabinet." Dina P
The Balm helps Diane's husband
"Wonderful product. I ordered this for a friend but got a second jar for my husband who has a pre-c*****on his head that they are treating by freezing. This is painful for him and leaves blisters and open sores. The Balm is really helping. Thank you." Diane G

Further Reading about Zen Balm